A special county that's easy to call 'home'
It's not a place you pass through to get somewhere else – it's always a destination, so you'll find Norfolk people are fiercely proud of their county, and with good reason. The weather's good, with less rainfall and more sunshine than other parts of the country and the schools in Norfolk are also great for growing families. The rolling countryside is incredibly scenic, and it's a safe area too, with one of the lowest crime rates in the UK.

A Truly Stunning Coastline
There are lots of things to do in Norfolk and the 90 miles of coastline are as varied as they are beautiful. There are family-friendly resort towns such as Great Yarmouth, Hunstanton and Cromer, and quieter locations with vast sandy expanses such as Holkham and Horsey, where you can enjoy peace and tranquility. Nature lovers can see the largest seal colony in England at Blakeney Point, and thousands of migrating birds at Titchwell. Whatever your interests, there's a beach for you in Norfolk.

The Norfolk Broads
Norfolk's other big natural draw is the Broads National Park in the east of the county. These man-made lakes and rivers cover 117 square miles and have more rare wildlife than any other National Park in Britain. They offer a host of leisure opportunities like boating and other watersports such as windsurfing, and many miles of cycle routes and footpaths wind their way through this stunning landscape.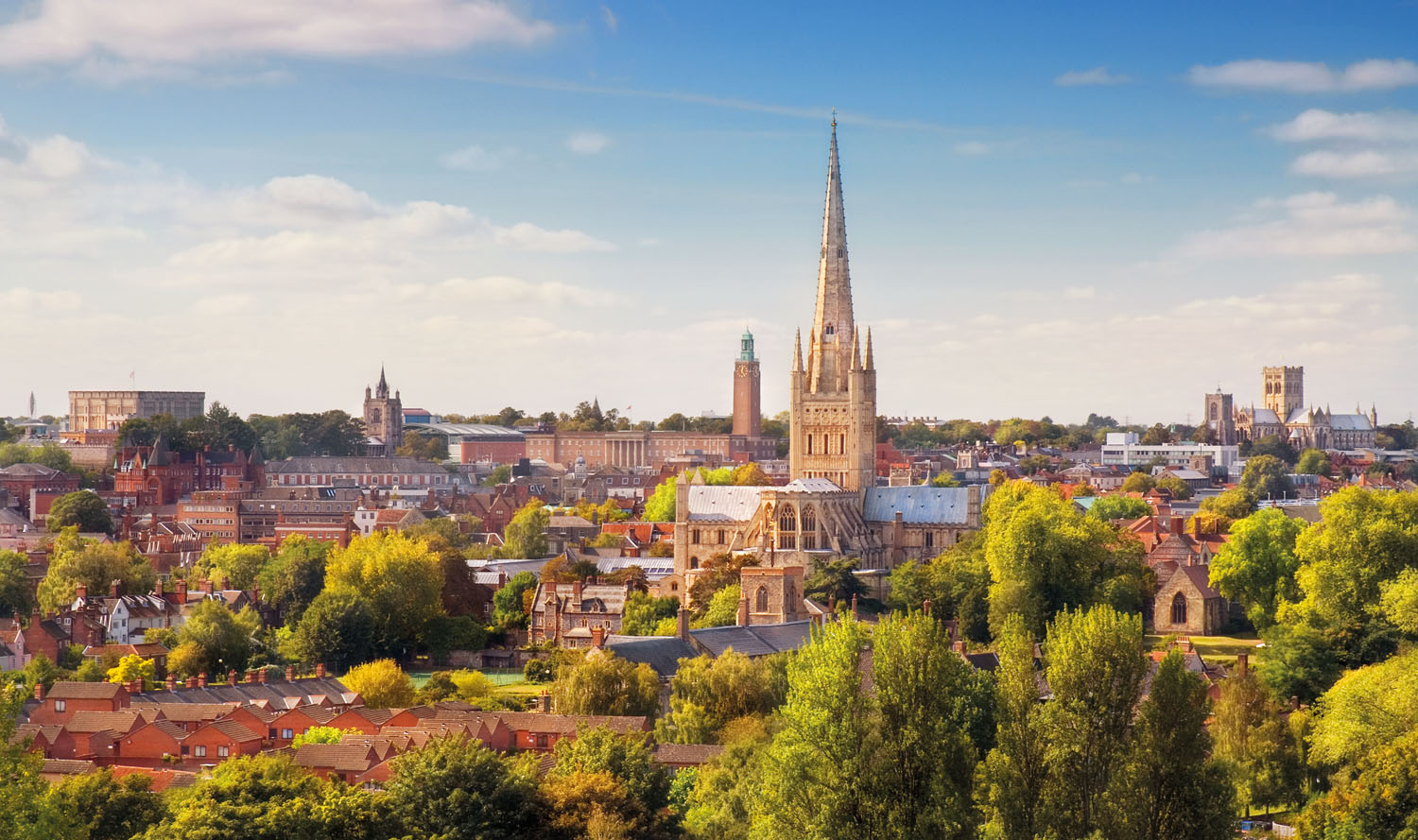 The City Of Stories
Known as the city of stories, Norwich has a strong cultural thread running through it. It's England's first UNESCO City of Literature, and the University of East Anglia runs a world-renowned creative writing course. The Theatre Royal attracts some of the biggest shows in the country, while the Playhouse hosts the best contemporary drama, music, comedy and dance.
For Hollywood blockbusters there's an Odeon and a Vue, while Cinema City is the place to go for independent films. And the Norfolk and Norwich Festival runs for most of May, presenting over 100 performances, workshops and more.
Norwich is the heart of Norfolk. It's a city with a European feel, one that effortlessly mixes the historic with the modern. There is a strong retail offering here, with a pleasing combination of independent stores and national chains, two malls and Europe's largest undercover permanent market.

Transport Links
Norwich is connected to London by the A11, travelling via Wymondham and Thetford to become the M11, reaching the M25 in less than two hours.
Via train you can be in Liverpool Street Station in ninety minutes with services departing every half hour. Norwich station is a hub and connects to the branch stations across Norfolk, as well as direct to Cambridge and Peterborough for easy access to other parts of the UK. For trips abroad, Norwich has its own international airport which connects direct to cities across Europe.

Choose From A Range Of Stunning Locations in Norfolk
At Hopkins Homes, we believe in creating outstanding new homes in Norfolk. Our dedication to superior craftsmanship can be seen across several areas, such as Blofield, Thetford, Holt, Drayton, Brundall, and Swanton Morley.
We take pride in our commitment to enhancing these towns and villages with homes that blend both modern design and timeless appeal.