Design & Planning
The heart of our Philosophy
We are trusted by communities, by our customers and local authorities to realise and deliver new homes and developments of outstanding quality.  We make sure we design properties and places that people will love and that will stand the test of time.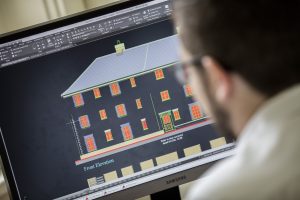 That means we start in the traditional way: with a pencil. Every home, every development we create starts with a simple pencil sketch. Yes, later on that concept is developed using some of the most advanced design software available. But we know that there is something elemental in designing with a pencil that digital simply can't match, and our head of design David Wytchard takes great pleasure in directing that process, from first touch of graphite on paper to its final, beautiful form.
In fact, our design team still often work on angled drawing boards, using paper and pencil, and we make sure that we design properties and places that people will love. To see people enjoying living in the spaces we create – their homes, and the carefully designed environments around them – gives the team great pleasure.
This, we believe, encapsulates our approach to house design.
We use features, skills and materials that many housebuilders have forgotten, qualities that have grown up around how people live, that have stood the test of time and are as relevant now as they were centuries ago.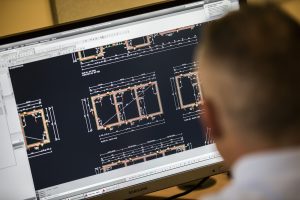 Hopkins Homes designs in the vernacular, not pastiche, and melds these features with the best in modern construction techniques, which result in homes that are practical, and a joy to look at and live in. And should the environment merit a different approach, that's what we bring: our focus is on design that is sympathetic with its surroundings and the lives of the existing community as well as its new residents.
There is no template: every new project starts with a blank page. We take time to assess the site, the local area and its architecture in detail. This provides the basis for our design team to create an initial collection of concepts, which we then refine until we arrive at our finished product, ready to be taken to the next stage.
Hopkins Homes starts with the space. Layout is fundamental, as it ensures quality of life for its residents. We assess numerous factors including roads, green spaces, the trajectory of the sun and more, to create appealing and practical site layouts.
We use trees and natural features as boundaries, scenery and traffic calming measures, and consult arboriculturists to assist us with selecting plants that will grow in keeping with their surroundings. Every development must be attractive and desirable as it matures, worthy of the Hopkins name.
We are acutely conscious of the responsibilities we have when we design our developments. These are homes that will last, they need to be relevant and allow the people who live in them to create their own space.
Our ultimate gauge of success of a development is how people respond. We always ask ourselves the question: 'would I be happy for my family to live here?'
And with every development we have built, the answer has been 'yes'.
Planning
We often find that a community's natural concerns about a new development are alleviated when they find out it's Hopkins Homes – it's good to hear "We don't really want new houses here, but we're glad that it's you doing the building".
Because we're regional, we've also established this reputation with councils and authorities. They know we work with diligence and make every effort to enhance the area. Whilst planning can never be assumed, that reputation is a useful aspect to submissions.