Top 5 places to live in Suffolk
Suffolk is a county defined by large swathes of countryside, farmland, pretty stone-built villages and a glorious coastline – much of which is designated an Area of Outstanding Natural Beauty. This all makes Suffolk an exciting choice as a county to settle down in.
It's no mystery why the county has become increasingly popular with those seeking a more rural, serene and green lifestyle. If you're thinking of joining them, here are our top 5 places to live in Suffolk.
Living in Halesworth
This idyllic town is almost an island, bordered as it is by the North Sea to the east, the babbling Buss Creek to the north, and the River Blyth wending its gentle way inland to the south.
With its iconic, multi-coloured beach huts stretching into the distance, and the feel of its Blue Flag-winning sands under your feet, Halesworth is a place you'll want to come back to again and again.
If you live close by and are looking to move to this beautiful town, take a look at our new build development in Halesworth 'Blyth Vale'.
Key features of this idyllic location are:
Great transport links
Rich in history
Local amenities
Full of culture
A quiet location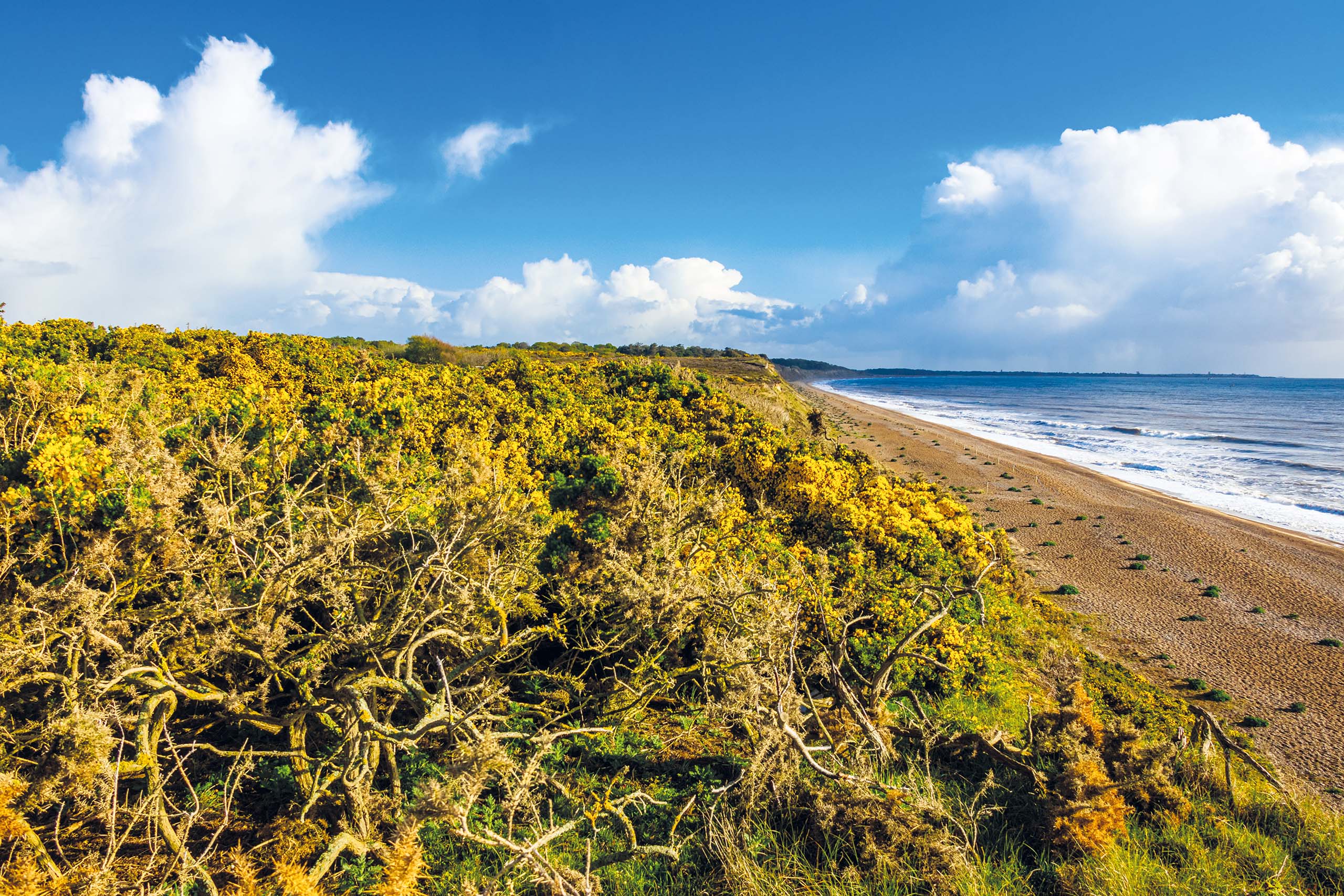 Living in Bury St Edmunds
Nestled in the west of the county and surrounded by countryside, Bury St Edmunds offers its residents award-winning restaurants, wonderful parks, plenty of places to shop, and over a thousand years of history to explore.
Breaking through the skyline of the town's slate roofs is St Edmundsbury Cathedral, a stunning monument of Gothic architecture that has stood since the 11th century.
Around it lies the Bury St Edmunds Abbey Gardens, where you can take in the cathedral's splendour while sauntering through its 14 perfectly manicured acres.
Some of its key features include:
A vibrant town centre
Great schools
A range of restaurants and pubs
Plenty of leisure and entertainment
Beautiful architecture
Living in Lavenham
Set in the south of Suffolk, close to the Essex border, lies Lavenham. One of Britain's best-preserved medieval villages, Lavenham's rich history reflects its stature as one of Suffolk's most important wool towns – its renowned Lavenham blue broadcloth saw wealth flow into the area as its exports went out as far as Russia.
Today, Lavenham is a quaint yet bustling village centred around a strong community spirit.
Timber-framed and pastel-coloured antique shops, boutiques, and art galleries line its streets, while an award-winning farmers market brings the finest artisanal produce from around Suffolk to Lavenham every month.
Here are some notable features of this beautiful village:
Medieval architecture
Rich in history
Local amenities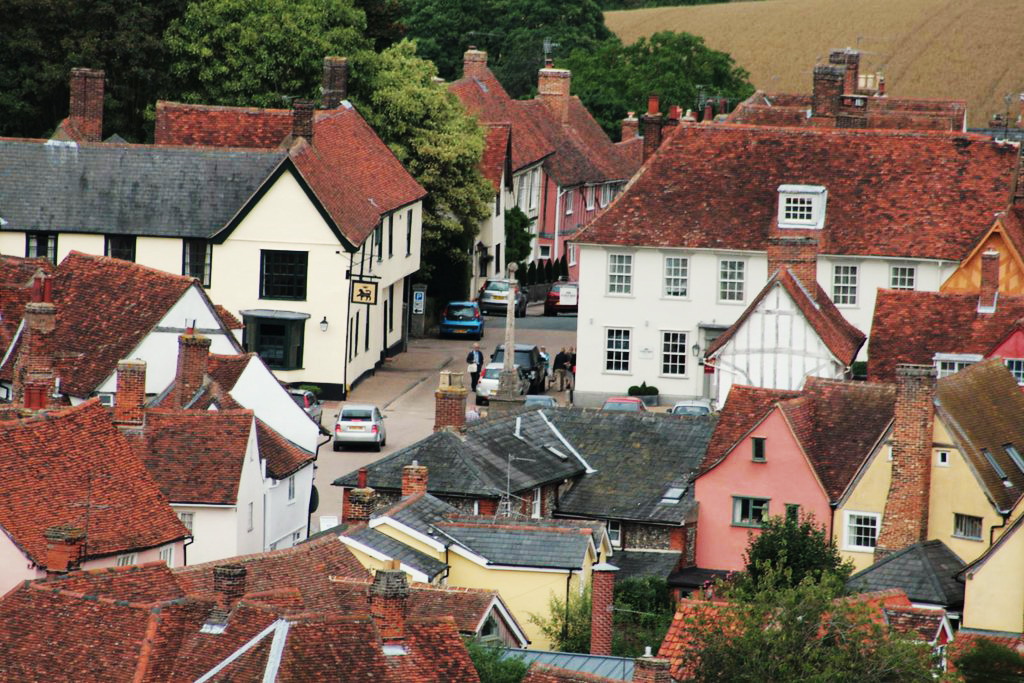 Living in Aldeburgh
The second coastal town on our list, Aldeburgh enjoys breathtaking views both out to the North Sea and along the River Alde that flows just to the south.
A history of seafaring and engineering saw the town come to prominence in the 15th and 16th centuries – its shipbuilders created The Golden Hind, Francis Drake's famous galleon.
Since the 19th century, Aldeburgh has been a popular destination more for its aesthetic qualities than its engineering ones, as visitors flock to enjoy its sea views, golden beaches, and brightly coloured seafront architecture.
Some notable features of this coastal town are:
Picturesque streets
Proximity to larger towns such as Bury St Edmunds
A tranquil lifestyle
Accessibility to cities such as London
Rich in history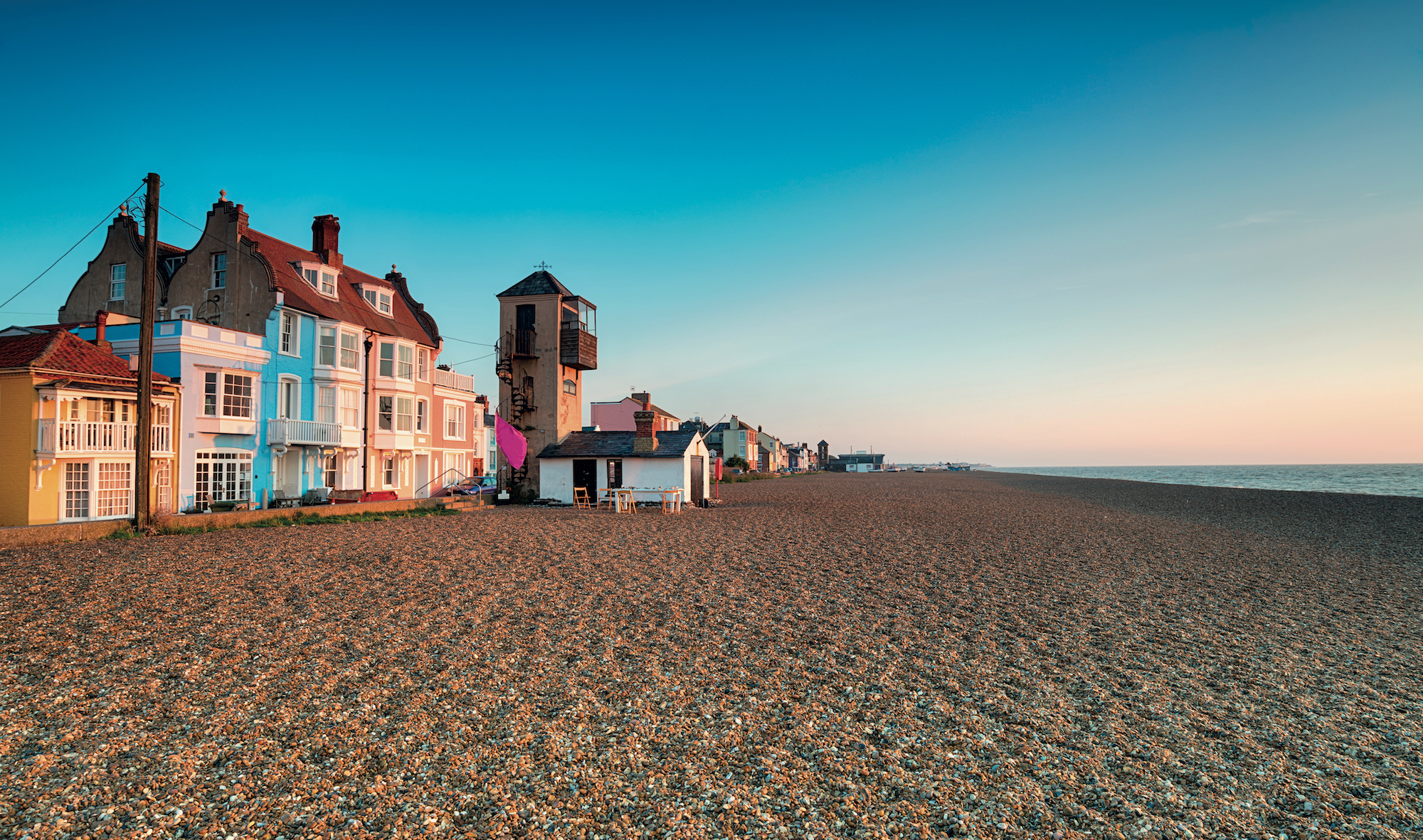 Living in Grundisburgh
Grundisburgh is a charming village located in the county of Suffolk, England. Known for its picturesque rural setting, it epitomises the quintessential English countryside charm.
The village is centred around a traditional green, adding to its scenic beauty and community feel. Grundisburgh is home to a mix of historic and modern buildings, including a beautiful church, St. Mary's, which is a focal point of the village.
Grundisburgh offers a peaceful and friendly atmosphere, making it a desirable location for those looking to enjoy country living while still being within easy reach of larger towns and cities in Suffolk. Take a look at our fantastic new build development 'Grundisburgh Vale' in this picturesque village.
Here are some of the features it has to offer:
Rural charm
Local amenities
Local schools
Good transport links
Historic character
Where is the best place to live in Suffolk?
The best place to live in Suffolk depends on your preferences. Bury St Edmunds is popular for its rich history and vibrant community. For those seeking a more coastal lifestyle, Aldeburgh is a great choice.
Where is the most affluent part of Suffolk?
Affluence in Suffolk is often found in areas with picturesque countryside or coastal settings. Aldeburgh and Grundisburgh are known for their higher property prices and affluent communities, offering a mix of luxury homes and exclusive amenities.
Which town is the safest in Suffolk?
Bury St Edmunds is frequently mentioned as one of the safest towns in Suffolk. It's a small market town with a strong community feel, historic charm, and very low crime rates, making it a safe and desirable place to live
Why is Suffolk expensive to live in?
Suffolk can be expensive due to its desirable rural and coastal locations, which are in high demand. The county offers a high quality of life, with beautiful landscapes, historic towns, and good amenities, all of which contribute to higher property prices. Proximity to London also makes certain areas pricier, as they are popular among commuters.
Is living in Suffolk worth it?
Many people find living in Suffolk worth it due to its scenic beauty, peaceful lifestyle, and rich cultural heritage. The county offers a blend of rural tranquillity and coastal charm, with good access to amenities and services. Whether it's worth it will depend on your lifestyle preferences and what you're looking for in a home environment.
Interested in learning more? Take a look at what our new builds in Norfolk, Cambridgeshire and Essex have to offer.