Specially commissioned painting to feature at Suffolk Show
We're sponsoring the Art exhibition at this year's Suffolk Show and will be showcasing a specially commissioned painting from talented local artist, Caryn Noad.
The painting is available as a raffle prize at the Suffolk Show, but anyone can enter via Hopkins Homes' social media channels.
The Suffolk Show is one of the UK's oldest county shows and remains a traditional agricultural show at heart.  The annual event takes place on 31st May and 1st June 2023 at Trinity Park on the eastern edge of Ipswich.
Lee Barnard, Managing Director of Hopkins Homes, commented: "We're delighted to sponsor the Art exhibition once again at the Suffolk Show. Caryn's stunning painting features St George's Park in Needham Market, which we commissioned to celebrate our final phase of development."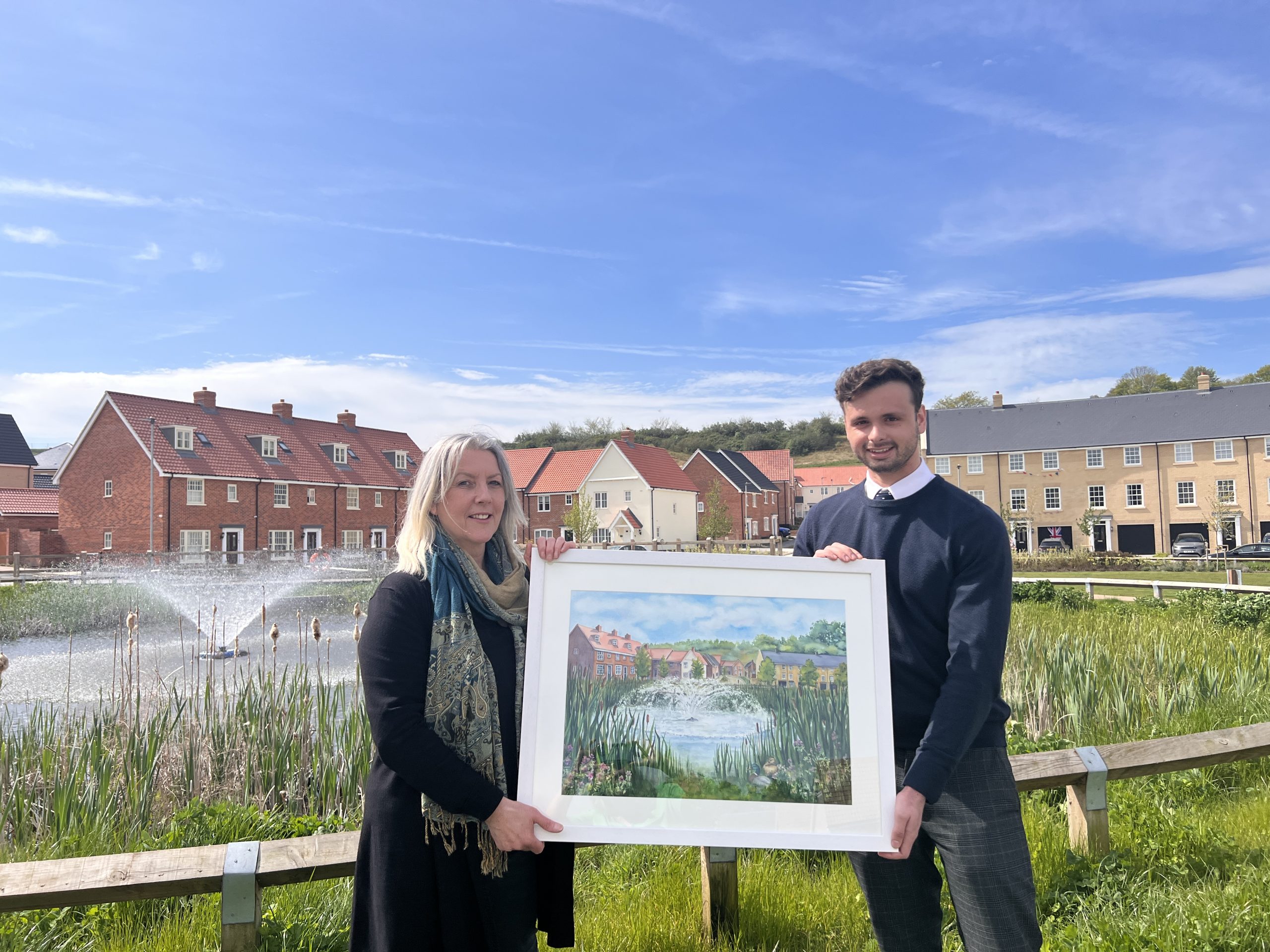 St George's Park is a stunning collection of homes, built on the site of what was originally a chalk quarry. At the centre of the development is a wildlife pond, a large open space and a play area, which is fast becoming a communal hub for the residents. With a wide range of architectural styles from the local vernacular to Georgian and Victorian influences, St George's Park feels authentic and 'of its place'. So much so, the development won 'Gold' at the WhatHouse? Awards for Best Regeneration Scheme in 2019.
Caryn Noad is a mixed media artist, working predominantly in watercolour, pen and charcoal. She draws influence from her love of travel as well as her local surroundings, so her subjects are diverse. Caryn is a proud member of the Suffolk Art Society.
Explaining the reaction to her St George's Park painting, Caryn said: "I couldn't have received a better reaction from Hopkins Homes when I delivered their painting. When you get that kind of reaction, you know you have it right!"
Recounting the creation process, she continued: "The fountain was always going to be the biggest challenge, especially as it is such a beautiful feature of the development. I also like the depth of the scene, a bit of intrigue, suggesting there is more to see around the corner."
William Selfe, Sales Consultant at St George's Park, was one of the first people to see Caryn's painting. "It's a beautiful piece and really conveys the tranquillity of the area. I was at St George's Park for the recent Coronation party and it was wonderful to see the space evolving into a thriving communal hub for residents. They're lucky to live in such a picturesque spot and I strongly recommend residents enter the raffle for this prize!"
More information about the Suffolk Show can be found at Suffolk Show | 31 May & 1 June 2023
To find out more about Caryn Noad, visit: www.carynnoadart.com