National Apprenticeship Week
At Hopkins Homes, we continue to develop our talent by investing in apprenticeship schemes.  To mark National Apprenticeship Week, two of our employees spoke of their experiences so far.
James Lyness, Trainee Assistant Site Manager
James is currently based at the Mill Grove development in Stowmarket. He is halfway through his year-long 'NVQ Level 4' qualification in Site Supervision, a programme run by the National House Building Council (NHBC).
Having previously worked on a number of Hopkins Homes sites overseeing the scaffolding team, James was noticed for his potential and recommended by his (then) site manager to go for the traineeship role.
"I'm really enjoying the course because it allows me to learn the theory of site management, whilst gaining practical experience throughout the week, that I can evidence in my assignments."
"I study every Wednesday (via remote learning, live on Zoom) and then work on-site throughout the rest of the week. It's a really nice balance," said James.
"We complete a series of modules and hand in an assignment at the end of each one. The next module is on 'environment and sustainability in building' which should be really interesting. It's great to be able to evidence my practical work in my assignments." he added.
James receives regular mentoring and coaching support from his colleagues on site, who actively encourage him to apply his learnings to practical tasks.  He is further supported by a monthly check-in with the Head of Quality Assurance and Training, Shane Vinyard, to reflect on what he has learnt and to raise any queries.
Clearly ambitious, James concludes: "I'm so grateful to Hopkins Homes for this apprenticeship opportunity and I hope to complete my 'Level 6' after this, which would be the equivalent to a degree in Site Management."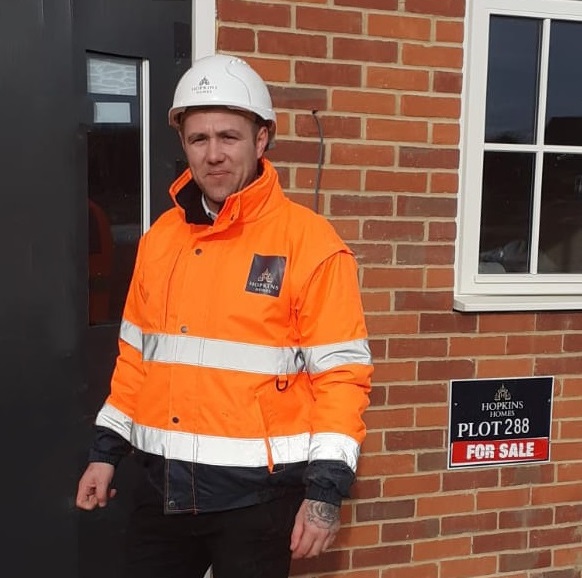 Harry Smith, Trainee Quantity Surveyor
Harry Smith is five months into his five-year degree apprenticeship in quantity surveying. He spends one day per week at Anglia Ruskin University, studying the theory of quantity surveying and the rest of the week working at Hopkins Homes, putting the theory into practice and learning on the job.
"I feel so lucky to be an apprentice at Hopkins Homes – earning and learning at the same time is a real benefit." said Harry.
He continued "The company is really supportive.  I feel empowered to have a go at things with the knowledge that assistance is there if I need it. Everyone within the company is happy to help and advise me – it's just like one big family."
Harry would encourage others who are interested in an apprenticeship to find out more, adding "learning whilst gaining practical experience really does give you the best of both worlds, so I'd advise others to investigate an apprenticeship."
Evidently, these two apprentices are enjoying a positive start to their careers and the future looks bright for OUR talent pipeline.