Best places to live in Suffolk
Best places to live in Suffolk
Suffolk is a county defined by large swathes of countryside, farmland, pretty stone-built villages and a glorious coastline – much of which is designated an Area of Outstanding Natural Beauty.
Little wonder, then, that the county has become increasingly popular with those seeking a more rural, serene and green lifestyle. If you're thinking of joining them, here are a few of our favourite places to live in Suffolk.
(Please note that due to Covid-19, many of the attractions cited in this blog are currently unavailable.)
Living in Southwold
Let's start our Suffolk tour by visiting the east of the county and the beautiful seaside spot of Southwold. This idyllic town is almost an island, bordered as it is by the North Sea to the east, the babbling Buss Creek to the north, and the River Blyth wending its gentle way inland to the south.
Southwold has everything you might hope from a quintessential English seaside town. You can take a tour of its working lighthouse, which has stood proudly in the centre of Southwold since 1887, and offers spectacular views out to sea. 
The town's 800-ft long pier offers a great day out for everyone, with fantastic food served up by both the Boardwalk Restaurant and The Clockhouse (whose hot chocolate is a must). While the pier's arcade offers family fun, from traditional two-penny games to the latest energetic arcade machines. 
With its iconic, multi-coloured beach huts stretching into the distance, and the feel of its Blue Flag-winning sands under your feet, Southwold is a place you'll want to come back to again and again. This is especially true if you happen to live close by – and two of our developments offer just such an opportunity.
Less than ten miles from Southwold is the Hopkins Homes development of Blyth Vale, where you'll find a community of two-, three- and four-bedroom homes in the picturesque town of Halesworth. While further to the north, and just 14 miles from Southwold, lies Barsham Vale, a development that will consist of 228 two to four-bedroom houses, apartments and bungalows. 
Living in Bury St Edmunds
Nestled in the west of the county and surrounded by countryside, Bury St Edmunds offers its residents award-winning restaurants, wonderful parks, plenty of places to shop, and over a thousand years of history to explore. So it's not hard to see why in 2019, Bury St Edmunds was judged the best place to live in the east of England by The Sunday Times.
Breaking through the skyline of the town's slate roofs is St Edmundsbury Cathedral, a stunning monument of Gothic architecture that has stood, in one form or another, since the 11th century. Around it lies the Bury St Edmunds Abbey Gardens, where you can take in the cathedral's splendour while sauntering through its 14 perfectly manicured acres.
Bury St Edmunds has a village-like charm to it, but is large enough to have all the amenities you could need. It's great for families, too, with a number of well-respected schools and colleges, including King Edward VI School.
Bury St Edmunds is also handy for commuters. Ipswich and Cambridge are around 30 and 45 minutes away respectively, while London can be reached in under two hours by car and train.
Because of its broad appeal, we've built two Hopkins Homes and one Hopkins & Moore development within a ten-mile radius of Bury St Edmunds.Thurston Park, for example, is part of the beautiful village of Thurston, seven miles to the east. The development offers an outstanding collection of two-, three-, four- and five-bedroom new homes, ideal for those who seek the charm of rural life but with everything they need close at hand.
Around six miles to the west of Bury St Edmunds, you'll find Woodland Rise in Barrow. This popular community showcases our wide variety of housing styles, from contemporary two-bedroom apartments to impressive five-bedroom family homes. And with all sorts of amenities close by, including a doctors surgery, a post office, and two pubs to choose from, Woodland Rise is a perfect combination of character and convenience.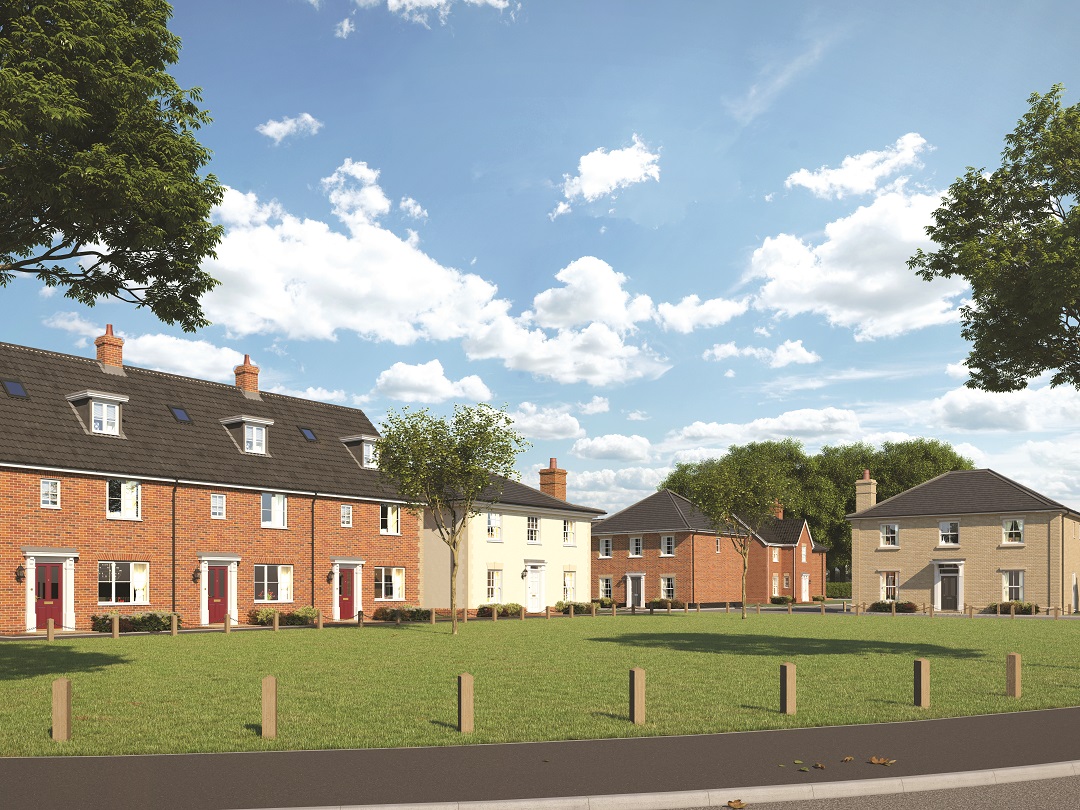 Living in Lavenham
Set in the south of Suffolk, close to the Essex border, lies Lavenham. One of Britain's best-preserved medieval villages, Lavenham's rich history reflects its stature as one of Suffolk's most important wool towns – its renowned Lavenham blue broadcloth saw wealth flow into the area as its exports went out as far as Russia. 
This heritage is seen today in Lavenham's 300-plus buildings that have been listed as being of architectural and historical importance. These include the Grade I-listed St Peter and Paul's Church, which is one of the finest examples of late-Gothic architecture in the country, and the De Vere House, which offers guests 5-star splendour set within a stunning 14-century property.  
Today, Lavenham is a quaint yet bustling village centred around a strong community spirit. Timber-framed and pastel-coloured antique shops, boutiques, and art galleries line its streets, while an award-winning farmers market brings the finest artisanal produce from around Suffolk to Lavenham every month.
Lavenham is also a great base from which to explore the surrounding Suffolk countryside. A short walk from the village is Dyehouse Field Wood, a woodland project set up in 2002 and that now offers ample green space to explore and unwind in. 
In fact, we're so taken with Lavenham, we built a Hopkins & Moore development here. At Indigo Fields, you'll find a range of properties: two- and three-bedroom terraces, charming two-bedroom bungalows, and detached four-bedroom houses. And as it's set within Lavenham, you're not just guaranteed a beautiful home, you'll be in the heart of one of the county's most picturesque villages. 
Take your virtual tour of Indigo Fields here.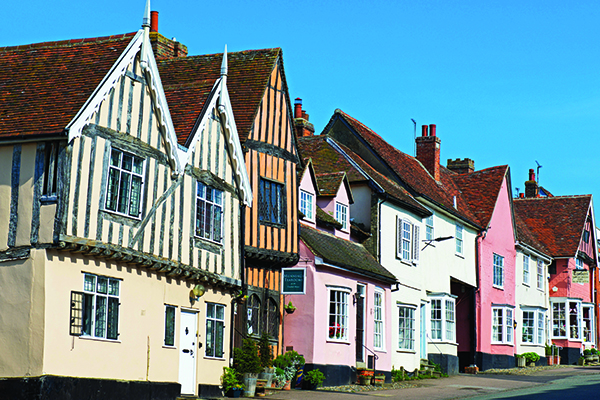 Living in Aldeburgh
The second coastal town on our list, Aldeburgh enjoys breathtaking views both out to the North Sea and along the River Alde that flows just to the south. 
A history of seafaring and engineering saw the town come to prominence in the 15th and 16th centuries – its shipbuilders created The Golden Hind, Francis Drake's famous galleon. Since the 19th century, Aldeburgh has been a popular destination more for its aesthetic qualities than its engineering ones, as visitors flock to enjoy its sea views, golden beaches, and brightly coloured seafront architecture.
Aldeburgh is well-known for its fabulous food, with The Lighthouse being a particular favourite among locals and visitors alike. Lovers of traditional music will appreciate the ever-impressive Aldeburgh Music Club, which was founded by one of the country's finest ever composers, Benjamin Britten, who was from the town.
Other cultural delights come in the form of Aldeburgh's several art galleries, its annual Festival of Music and Arts, and the iconic sculpture 'Scallops on the Beach' by celebrated local artist Maggi Hambling.
Just a five-minute drive north is the charming village of Aldringham, where you'll find our Hopkins & Moore community at The Sandpipers – a range of beautiful homes that cover all kinds of styles, from modern apartments to large family homes. While just a few miles west lies our Hopkins Homes development at Priors' Grange in Saxmundham, a beautifully designed collection of one-, two-, three- and four-bedroom homes. 
**
If you'd like to make Suffolk your home – and there are many more reasons why you would than we've mentioned here – book your show home viewing with us today.